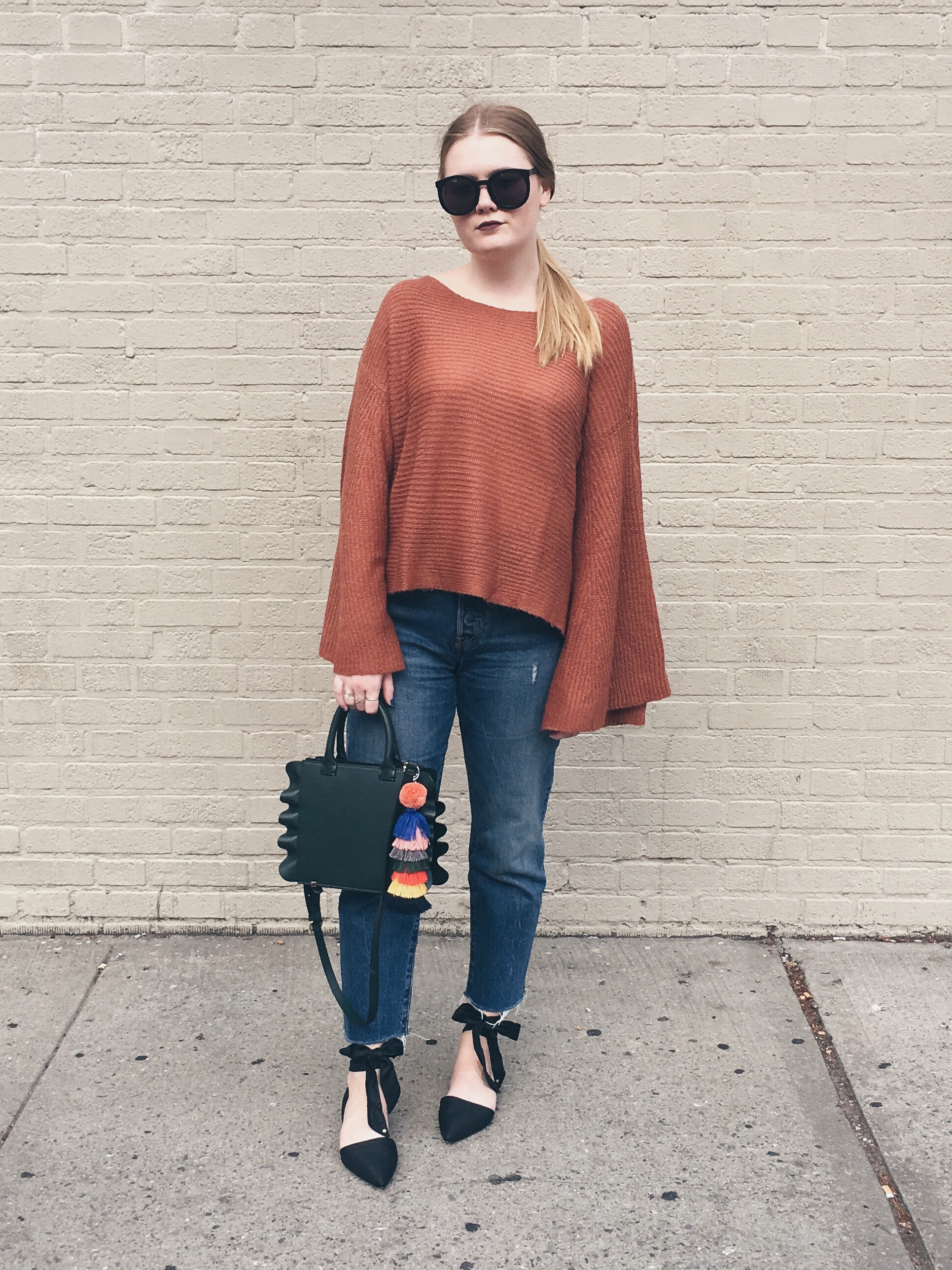 Sweater season is back in full swing! There's just something about a cozy cute sweater that makes getting up and dressed in the morning a little easier…
Shop My Outfit: BELL SLEEVE SWEATER in color Brown Rustic (BP. by Nordstrom) | HIGH-WAISTED CROPPED JEANS (Levi's via Bloomingdales)  | BOW POINTED TOE FLATS (Sam Edelman) | RUFFLE MINI BAG (Zara) (Similar Here) | TASSLE KEYCHAIN (Ban.do)  |  SUNGLASSES (Karen Walker)
I have to say, the history of sweaters really hasn't been a great one fashion-wise. I feel like there haven't been many strides (until only recently) within sweater design to make them more wearable for someone trying to be fashionable. They've always kind of been like a side-line piece, instead of the main feature of any given stylish outfit. But luckily sleeve styles are going wild right now and have really stepped up the sweater game the past couple seasons. There are so many different styles now that are more street-style and interesting rather than just the typical v-neck cashmere or that button-up (librarian) cardigan that comes in literally a bajillion colors –
you know the one
.
Last season we saw this statement sleeve trend emerge, but it was more in the blouse/shirting realm, and this year it's fully hit the sweaters!! And I am personally so excited because I can be really lazy and sweaters are just so easy. Throw it on with some jeans and booties or flats, and you are good to go!
I've covered the top 5 of the statement sleeve styles out there – I think my favorite being the tiered sleeve. It is just so pretty and so unique. I have a black one and get endless compliments every time I wear it. But you can't go wrong with any of the styles I cover below – they are all super chic.
1. Balloon Sleeve
I was skeptical of this style at first, but I've really warmed up to it! I got a cream one recently and think it's really cool looking. My favorite part about the balloon sleeve is the tight end on the wrist; it makes your wrists look nice and small compared to your arms and turns out to be really flattering.

2. Tiered Sleeve
The prettiest and girliest of sleeves, and also the most statement-making! Flowing thick sweater tiers are just really really striking and create a stunning look. Just be warned that it can be a bit hard to wear a jacket/coat over – it's a lot to stuff in a sleeve!

3. Bell Sleeve
The classic statement sleeve, so 70s I love it. I love pairing them with skinnies so that the only volume are the big ol' bells hanging from your arms. They are so gorgeous. Forewarning – the bigger the bell, the harder it is to do dishes and wash your hands… #worthit though. Fashion over function, right?!

4. Ruffle Sleeve
Big ruffles, small ruffles – so feminine and dainty no matter the size, they pair so well with edgier pieces. I love seeing them paired with anything leather or super-distressed denim.

5. Tie Sleeve
I consider this the trendiest of the sleeve styles. It just screams "cool-girl" with hanging ties and a more feminine maxi cuff style. It's sort of an update on the classic bell sleeve, creating a trumpet-like shape that just feels really fresh.

What's your favorite statement sleeve style? Let me know in the comments below!